How do I configure certifications for my workforce?
You can add Certification Types into your Rivet account and then assign certifications to worker profiles with expiration dates.
Admin users can navigate to org settings in the main menu by selecting the gear icon.
1. Use the Certifications tab to add new Certification Types.
Add certification name, description, and link. You can also choose the duration, set it to not expire, and auto-bookmark the certification to a worker's baseball card.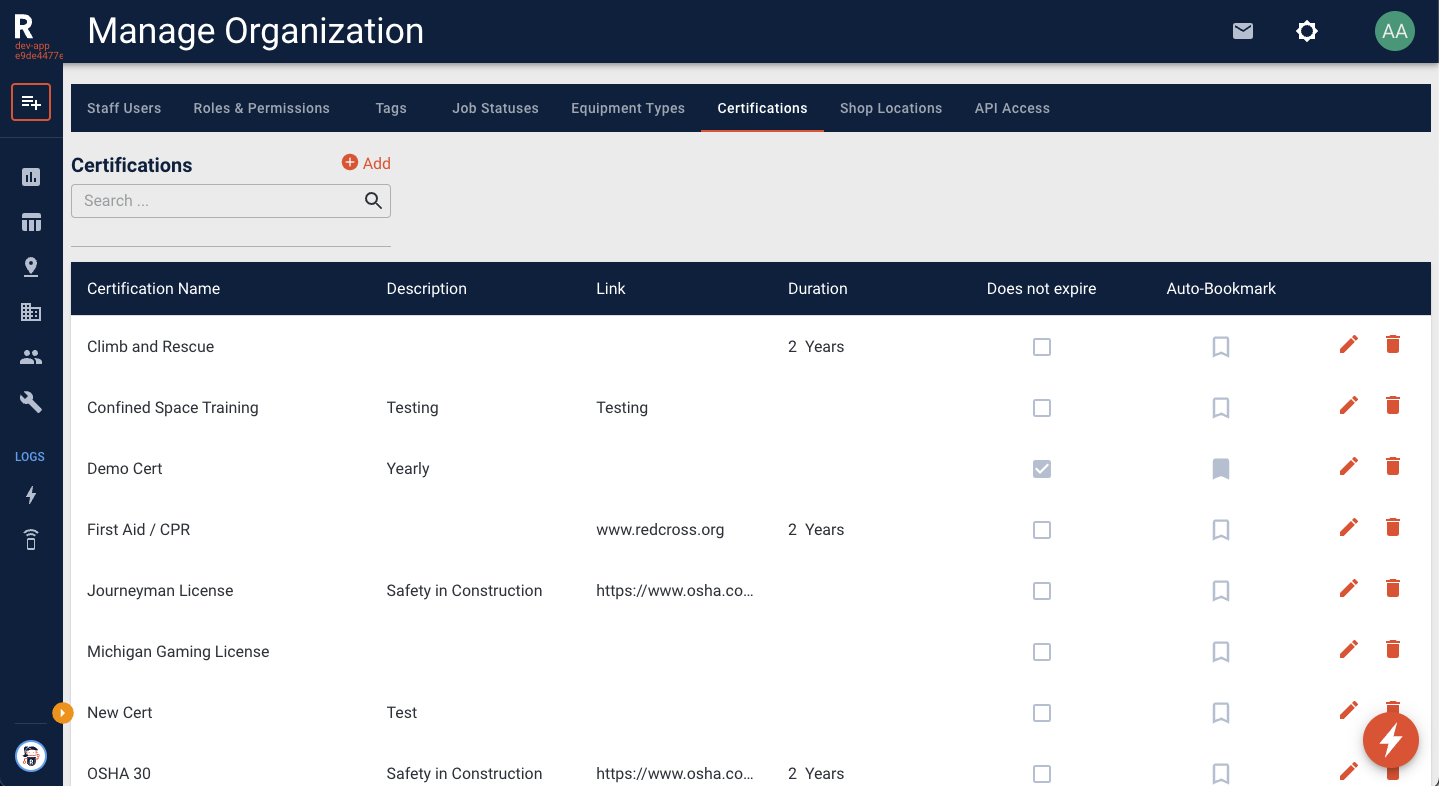 2. Add Certifications and Expiration Dates to Worker Profiles.
When adding or updating a worker, navigate to the Certifications tab, then select the Certification Type from the dropdown and add an expiration date.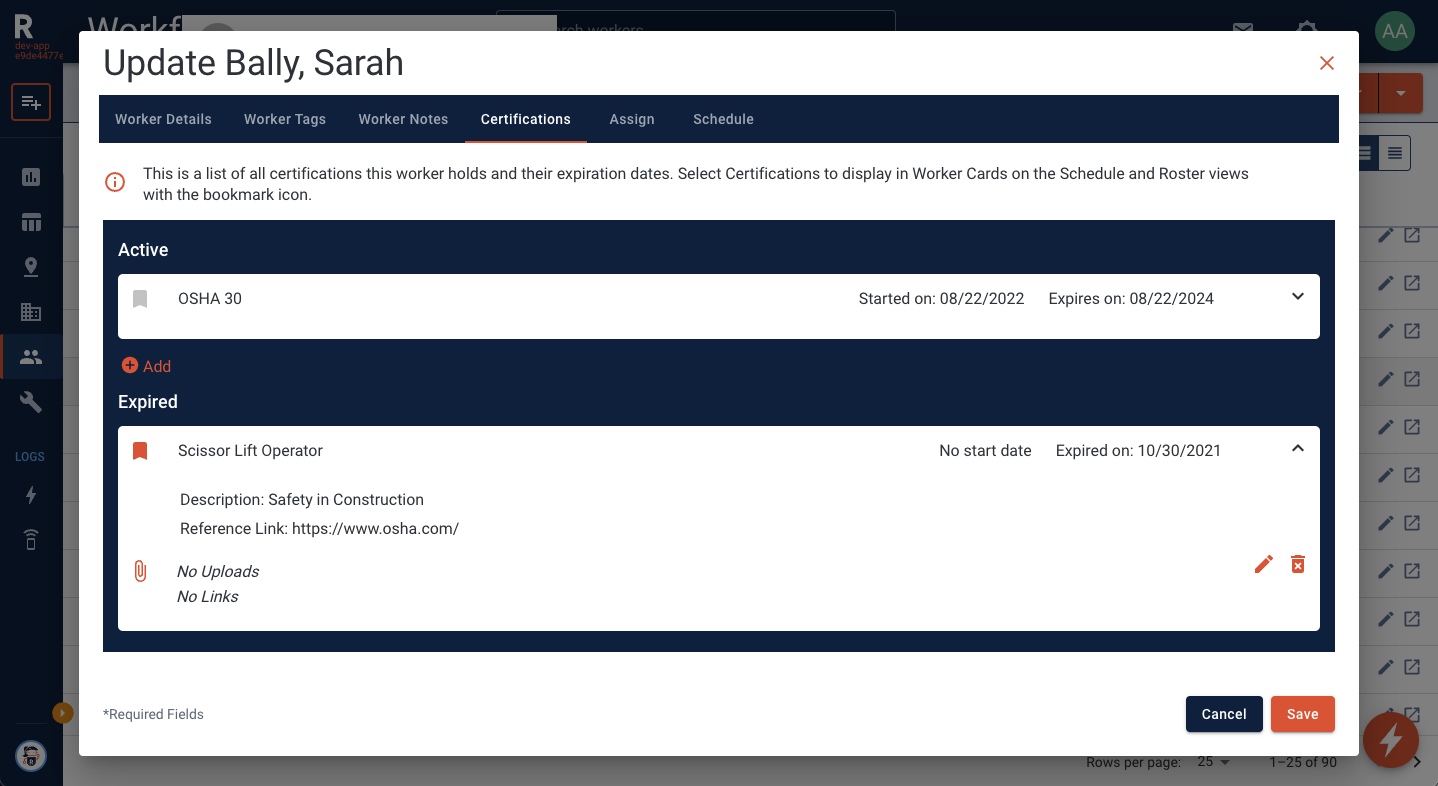 Tip: If the certification you selected is auto-bookmarked and set with a duration, it will auto populate. You just need to add the start date. You also have the option to upload or link certification image(s).
3. Add multiple Certifications at once with the new bulk editing feature.
Choose the workers that you would like to add a certification to. Next, select Apply a Certification.
Select the certification you would like to apply from the dropdown menu. If there is a date given or expiration that applies to all workers, select this from the date picker.
Check the box if you would like to bookmark the cert for all workers. Click Save to finish.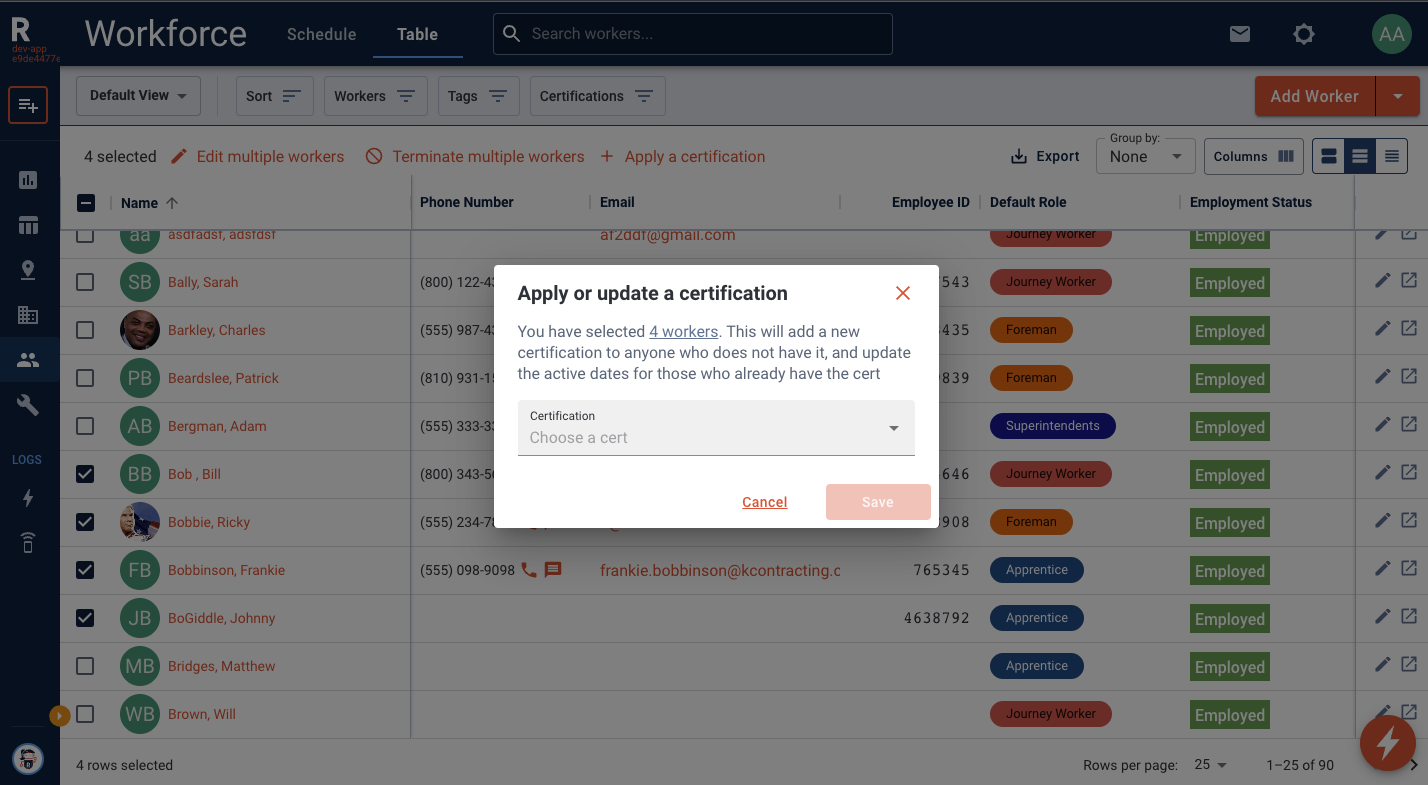 If you would like to add multiple certifications with images, check out the new Bulk Certification Upload Tool. You will perform the following in the Workforce table:
Select Upload Multiple Certifications. The Bulk Certification Image Uploader will pop open. Choose one or more images you would like to upload. Select Files.
Choose the certification, worker, date received, and expiration date. Select if you would like to bookmark the certification by checking the box.
Tip: You have a batch apply option. Whatever you type into this field will apply to all of the images below. For example, if you would like to apply the same certification to multiple people.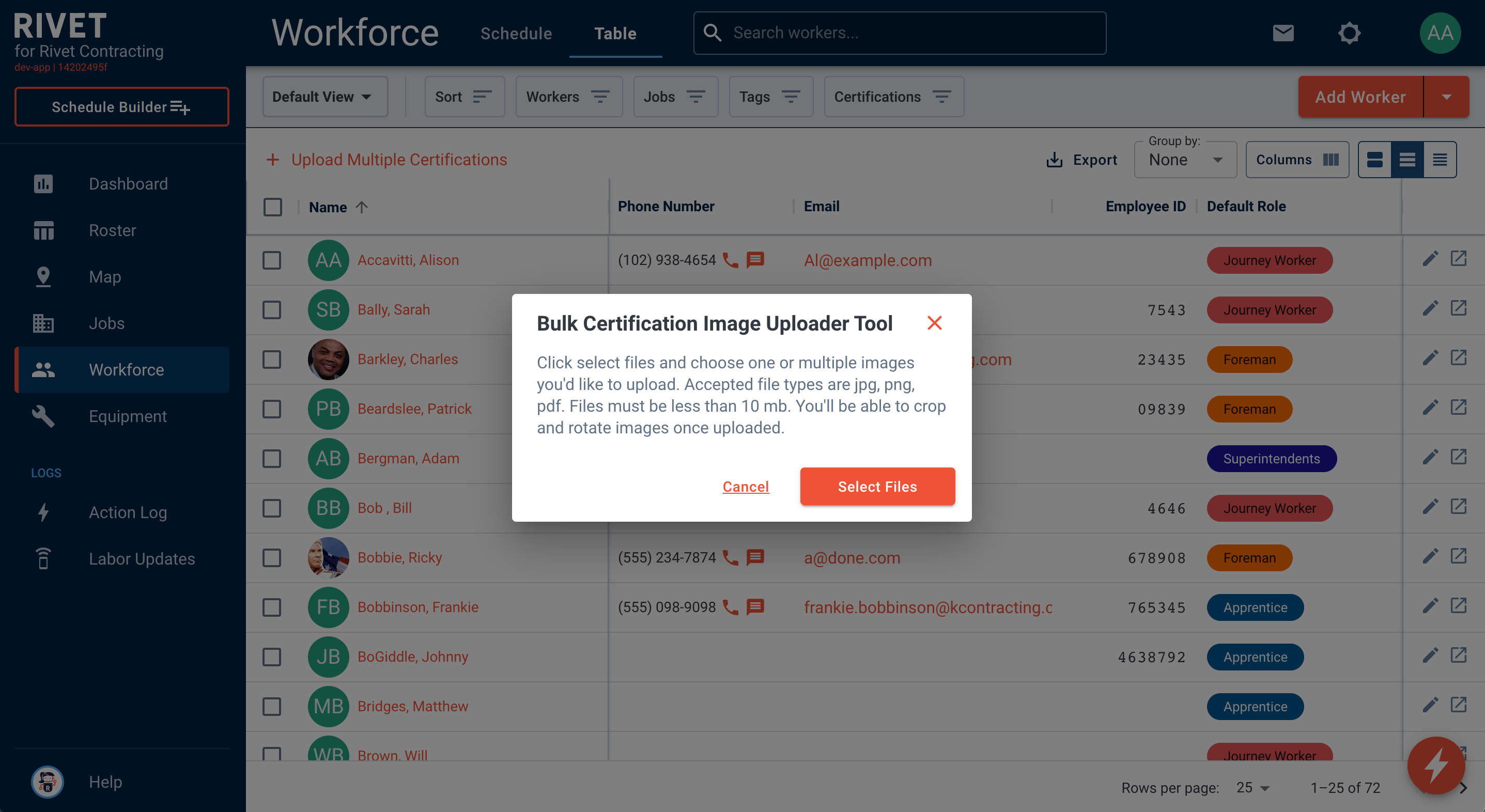 If you would like to edit the image, you can crop and rotate it (or reset if you aren't happy with your edits). You can also associate images. If there is a front and back to a certification image, you can link them so you can view both sides.
Tip: You have the ability to clone the image; you can upload it once and apply to different people. If you crop something and clone it, the clone will be the cropped image and NOT the original. Therefore, you cannot reset it back to its original state.
To finish, select Save. Once saved, view changes made by selecting Show me changes. This action will display the workers you applied certifications to in the Workforce table.
4. Filter by workforce by Certification.
Certifications filters can be found on the Roster, Schedule- Worker and Workforce Table views. You now have the option to show workers who have ANY or ALL selected certifications for more customized views.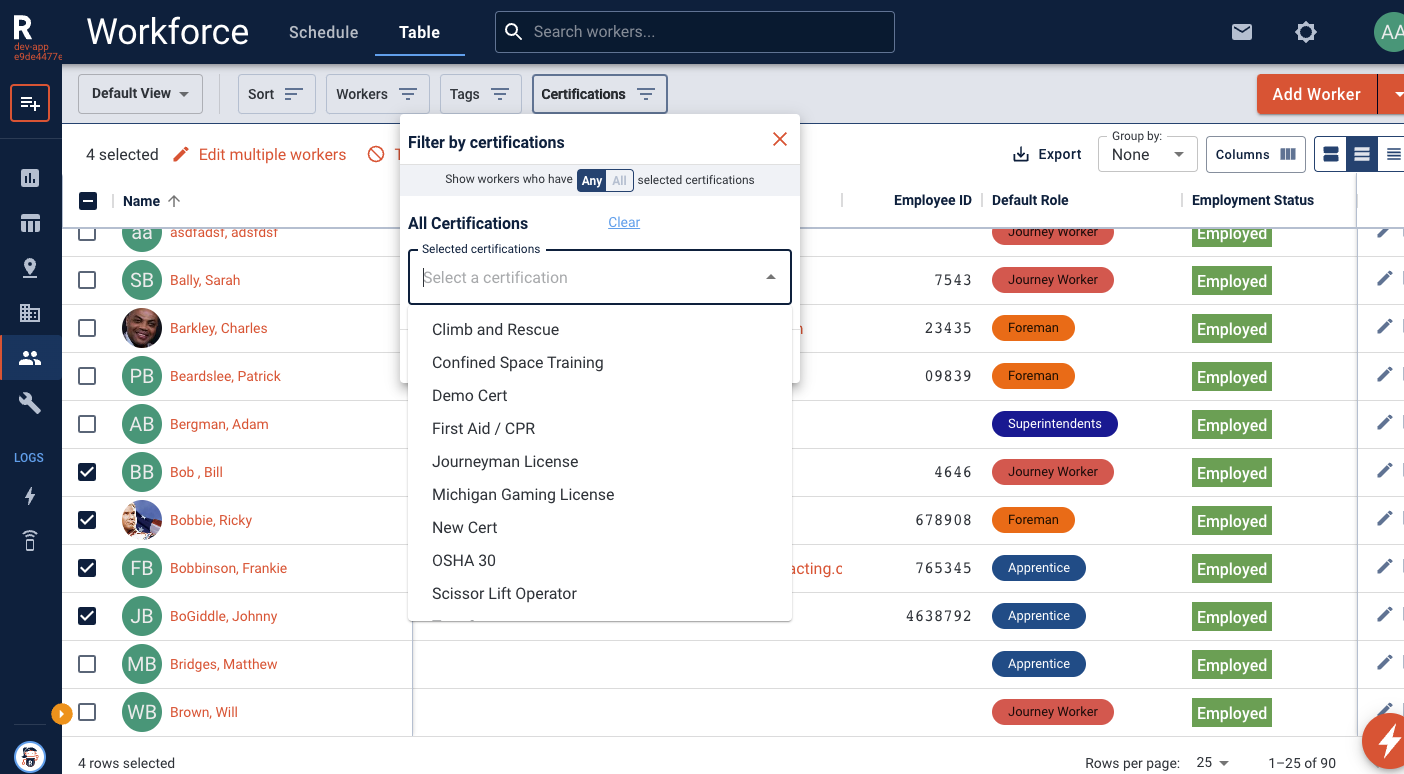 5. Viewing expiring Certifications on the Dashboard.
Quickly identify workers with certifications expiring soon by accessing the report on RIVET's Dashboard.
Navigate to the Dashboard to view a Certifications report that identifies workers that have expiring certifications.
Tip: You can also create a Custom Table view of Certifications across your organization from the Workforce Table. Learn more here.