New features, customer requests, product improvements
Feature Updates
Labor Requests
We've enhanced the back office experience for Placeholder Positions.
Today, these are primarily used by schedulers who are taking forecast requests for positions from project management or active labor requests from the field by phone.
On the Roster view, Schedulers can now track who created Placeholder Positions and when they were added in the Unfilled Positions Bucket.
Notes can now be added to placeholders for more explanation of the needs at the job site.
Schedules can validate positions were reviewed by adding a verified icon to placeholders.
Placeholder positions will be flagged as "overdue" if they aren't filled by the requested start date.
Note: The field mobile experience for Labor Requests has not changed with this release. We're actively working on a Labor Request form that can be used at the job site to submit labor requests from the field to the back office.
View article here.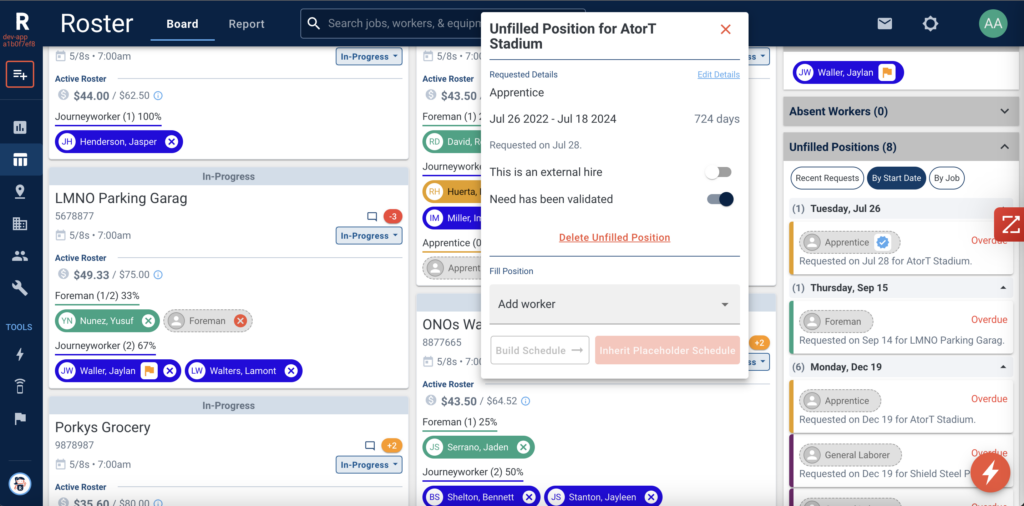 ---
Tweaks & Improvements
1. Integrations now include Certifications: In addition to integration with your workforce and jobs data, RIVET can now integration with your certifications data. Through the integration, you can sync your certification start dates, expirations dates, and attach those certifications to worker profiles in RIVET.
2. Worker Baseball Card: now includes the ability to view the worker schedule by week for quick reference.
3. Worker Baseball Card: The Schedule Builder icon (three lines and plus sign) has been added to the quick actions menu for convenient access to the Schedule Drawer.
4. Worker Notes: now includes the ability to attach files to notes and bookmark them to display on Worker Baseball cards.