New features, customer requests, product improvements
New Features
Mobile Field Labor Management
We continue to refine the mobile experience for field leaders who want visibility to the crews assigned to their jobs.
Conveniently review Job Rosters and Labor Requests entirely from the Jobs tab in your mobile view:
Select Show Rosters to reveal job assignments for the day or week, as well as open positions.
Request Labor from the back office with the Add Placeholder button, then fill out the request form.
---
When you're ready to invite users to your RIVET account, you can invite them individually or in bulk.
Invite users individually from the Workforce Table. Configure the table to show Account Status by worker, and select the Send Invitation option when present. You can send invites to one or many workers with the bulk select option at the top left of the table.
Admin users can invite all employees in bulk via text, email or both on the Manage Organization page.
View article here.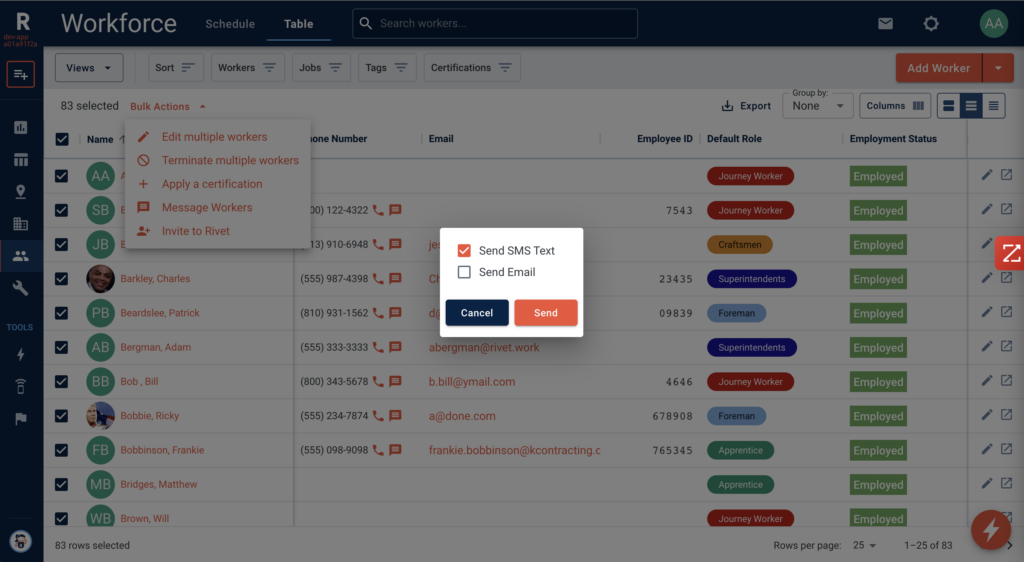 ---

RIVET Data Agent
Contractors that want to sync jobs and workforce data from other on-premise systems that aren't cloud-based can now connect via the RIVET Data Agent.
The RIVET Data Agent is a Microsoft Windows Service that is installed on an on-premise server at a contractor. The data agent can then connect to Microsoft SQL Server or any ODBC compatible data source to push near real-time updates to RIVET. The data agent can be used to integrated with on-premise softwares like Sage 100 Contractor, Sage 300, Quickbooks, Trimble Vista and more.
RIVET can support on-premise and in cloud system integrations. We'll work with you to determine which is the right fit for your company. Email support@rivet.work if you'd like to request an integration (included with your subscription).
View article here.
---
Tweaks & Improvements
We made some small but mighty improvements to the Workforce and Job Schedule views, based on your feedback.
Quick-add jobs from worker cards on the Workforce Schedule
Paint jobs and availability on the Workforce Schedule
Reschedule worker job schedule segments or absences via the Schedule Popover on the Workforce Schedule
On the Job Schedule, transfer workers from one job to another with a new Transfer keyboard shortcut: Hold down CTRL on a Windows PC or CMD on a Mac while clicking will activate a transfer dropdown with a list of jobs. Selecting a new job will move the worker to the transfer job on the schedule
Painting schedule segments for workers on the Job Schedule that are greater than 7 days will adopt the Job Default Schedule for entire date range.